Private Cloud
Develop your infrastructure independently thanks to Private Cloud, a guaranteed resource pool. Virtual machine available in seconds without resource overbooking for more complex web projects.
Discover Private Cloud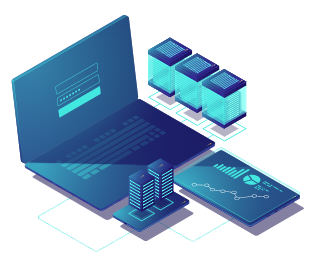 www.
€9,99/year
€4,90/year
€12,90/year
€37,80/year
Hosting, Domains, Cloud and Dedicated Servers for each web project
Why choose us?
Security First
We oversee IT networks and infrastructures through remote management and monitoring of resources such as bandwidth, firmware, disk usage, CPU and RAM.
We centralize all information on IT security to keep data traffic under control through update firewall operations, maintenance of IPS / IDS rules and periodic vulnerability assessments.
All processes are security oriented , from the engineering of services to software, through the backup by default policies and the analysis of network traffic.
Products for every need
We analyze each product in detail and are always ready to improve its functions and benefits to offer safety and high performance. Our team will offer you all the necessary support in choosing the perfect service for your needs, studying each situation and recommending the most suitable product.
We pay particular attention to security and offer numerous backup and disaster recovery solutions, redundant and highly reliable.
Management with a single interface
The Manager Control Panel is the customer area created by our team of developers and constantly updated for greater security, usability and ease of use. The advantages:
Unique login
Complete management of services
Consultation of orders and view of invoices
Easy purchases and renewals via API to link applications to our software
Interactive statistics display
Ticket Support Requests
About us
fenomenale
fantastico!!!!!!!!!!!!!!!!!!!
Assistenza tecnica professionale
Ho avuto un problema al sito in fase di ripristino di un precedente backup e login al CMS di WP. Hanno ristabilito la piena funzionalità in tempi brevissimi
Assistenza Tecnica eccezionale
Il tecnico che ha risposto al mio ticket è stato gentilissimo nel darmi informazioni specifiche e aiutandomi a risolvere i problemi della migrazione del sito essendo io non del settore . Pertanto la mia valutazione al servizio è TOP