Cloud Server
Cloud Servers engineered for each web project: dedicated resources and maximum scalability for high performance.
Pre-configured Cloud Servers
Rely on our experience with pre-configured Cloud solutions, designed to offer an optimal balance of resources and performance.
Optimal integration between resources

Soluzioni ready-to-use

9 configuration options
Custom Cloud Server
Create your customized Cloud Server, customizing the features and resources necessary for your application or web project.
Decide the level of RAM, Disk, vCPU resources

Choose whether to activate High Reliability (HA) mode

Customize the configuration and operating system
Pre-configured Cloud Servers
Ready-to-use Cloud solutions, studied in detail to offer a typical balance of CPU, RAM, Storage resources.
Custom Cloud Server
Create your customized Cloud Server by independently choosing the features and resources for your project.
Server Location
Decide the location of your Cloud Server from several options in Europe
High reliability
Enable High Reliability (HA) mode for a redundant solution
Disc type
Choose between different performing Storage: Standard, Pro, High Priority
Configuration
Trust the numerous configuration templates for each project
Operating system
Choose the operating system by setting the optimal version
RAM
Customize RAM from 1GB up to 12GB
Disco
Manage Disk Space from 20GB up to 100GB
vCPU
Set the vCPU from 1 to 8 cores
Offerta Cloud Server
Buy a Cloud Server for 12 months and get a 5% discount
All Servers offer
Statistics check in real time
Monitor server workload (CPU, RAM, disk) in real time.
Snapshot e Backup scheduler: Daily/Weekly
Create and schedule a "snapshot" of the server before critical interventions and restore data in the event of the unexpected.
Ease of use with the Manager Panel
Manage your domain and email accounts, configure DNS and MySQL database and more.
Console KVM
Access from browser and control your server without remote access.
24/7 support
The technical control of all servers is constant and the support responses are quick.
Server Preconfigurati
Do you want a ready-to-use server? Choose the configuration that suits your case among our templates.
Root access
Access the server with maximum privileges, to control it in its entirety.
Upgrade e Downgrade
All Cloud servers are scalable and flexible: you can increase your resources at any time.
IPv4 support
Add new IPv4 addresses for your mail server or virtual instances.
Backup query
Select the backup you want to consult from the Manager Panel, without having to restore it. You will find it directly as a new disk of your virtual machine, Cloud Server or Private Cloud in production or live.
Server infrastructure automation powered by Ansible
We integrate the automation of the infrastructure through Red Hat Ansible so as to make all the configuration updating and orchestration operations of the infrastructure recurring.
Check the resources of your Cloud Server in real-time
You will be able to monitor your Cloud Server directly from the customer area, monitoring the status of activity and resources, including CPU usage, amount of free RAM or disk usage. You can also restart the Cloud with a simple click.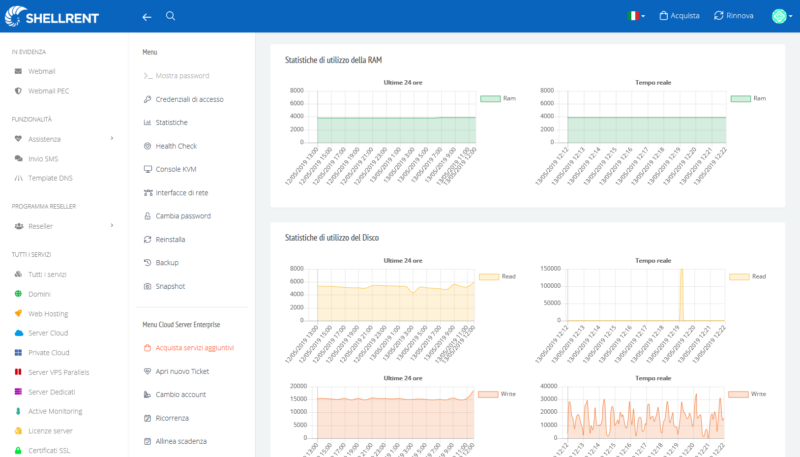 Additional services
Improve the performance of your application thanks to the additional services to be combined with your Server.
Choose the most suitable for your needs!