Powerful, reliable and secure dedicated servers
Dedicated servers are the right tool for those who need excellent performance and superior quality.
Choose from latest generation dedicated servers with processor
Intel Xeon SATA3 disks or SSD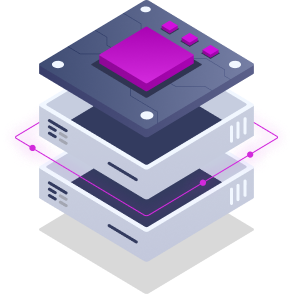 All Servers offer
Statistics check in real time
Monitor server workload (CPU, RAM, disk) in real time.
Ease of use with the Manager Panel
Manage your domain and email accounts, configure DNS and MySQL database and more.
Access from browser and control your server without remote access.
The technical control of all servers is constant and the support responses are quick.
Do you want a ready-to-use server? Choose the configuration that suits your case among our templates.
Access the server with maximum privileges, to control it in its entirety.
Add new IPv4 addresses for your mail server or virtual instances.
NVMe Storage: High-performance storage
NVMe (NVM Express)-based storage is capable of delivering up to 6x I/O performance of SSDs.
NVMe disks use NAND memory cells to save data and thanks to the PCI Express connection they far exceed the performance of disks used on the SATA bus.
Powerful, reliable and secure dedicated servers
Dedicated Servers are the right tool for those who need excellent performance and superior quality. Choose from latest generation Dedicated Servers with Intel Xeon processor SATA, SSD or NVMe disks.
Available configurations
Available O.S.
Debian 10
Debian 11
Debian 12
Ubuntu 20
Ubuntu 22 (only in available data centers)
2019 Standard Ed
2022 Standard Ed
Available Hypervisor
Additional services
Improve the performance of your application thanks to the additional services to be combined with your Server.
Choose the most suitable for your needs!