Active Monitoring: Control freak?
Thanks to the Active Monitoring service you receive an alert when the status of an application on your server or on your device changes.
Purchase one or more probes to monitor resources in real time through the Manager Panel.
With the Active Monitoring Managed service, every time a probe detects a problem, an intervention by one of our expert technicians will automatically start to solve the situation.
Choose what is important to monitor:
IMAP / POP3 / SMTP connection
Activate real-time monitoring of your device or server
Collect data from your probes and receive an alert when a certain event occurs. If you prefer, activate the automatic technical interventions in case of failure. This service can also be activated on a remote device reachable via IP.
Monitoring Base
The Monitoring Base service with the ICMP probe is always active free of charge with the purchase of any Server and allows you to be informed if the machine goes offline due to any network, hardware or software problem. Immediately activate up to 10 probes to monitor all the services available on the Server
Monitoring Managed
In addition to the email notification, the Monitoring Managed service provides for the automatic intervention of an operator in the event of a probe failure. The technical intervention is carried out during the scheduled technical assistance hours and is intended to restore the service that has shown the block in the shortest possible time.
How does Active Monitoring Managed work?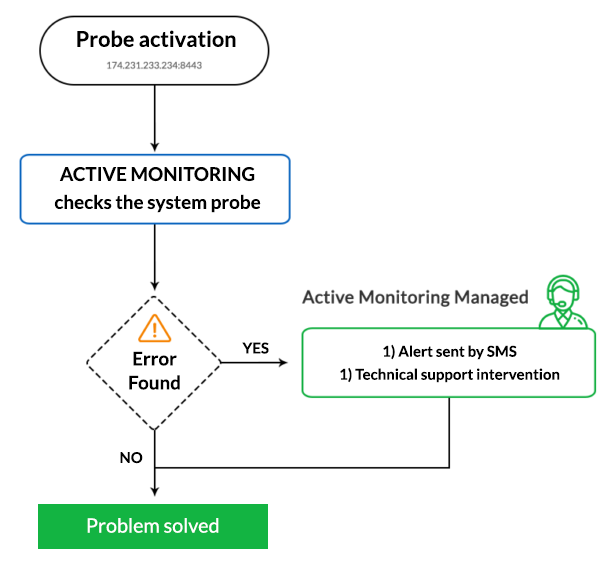 Remote device monitoring
You can monitor any type of device connected through the TCP / IP internet network and promptly receive reports in case something does not go as expected: SMS or EMAIL!
Which Services is it compatible with?
Cloud Server
Cloud Server ready immediately, turnkey
Dedicated Servers
Powerful, reliable and secure dedicated servers
Private Cloud
Virtual private infrastructure