Send SMS Online from the Web or via API
The SMS Service allows you to send SMS text messages from your computer or via API
Manage multiple mailings and address books directly from the Manager control panel
Find out how easy it is to communicate with your customers by contacting them whenever you want
Activate the SMS service and send SMS immediately directly online
Integrate the SMS Service with your products and start communicating with your customers immediately
The SMS purchased will not expire and you can use them at any time, even to send to foreign numbers.
You will always be able to view the remaining SMS and you will receive an email notification when you are close to exhaustion.
Choose the plan that's right for you and organize your mailings directly from the Manager control panel!
Economy
In Italy
The Economy service is perfect for sending massive messages to your customers. Each message will be sent immediately to the gateway which will process it in real time.
Priority shipping:
Best Effort
Standard
In Italy
The Standard service allows you to get the most out of sending your SMS, customizing the sending sender and ensuring priority sending of the same.
Refills available:
You can then use that same credit at any time for sending both Economy and Standard SMS
Procedure for sending SMS from the web
By purchasing a top-up you will increase your credit for sending SMS online. You can then use that same credit at any time to send both Economy and Standard SMS, which will be charged and subtracted directly from your initial credit based on the number and type of SMS sent.
Reload
Top up your credit directly from the web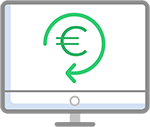 Send SMS
Send both Economy and Standard SMS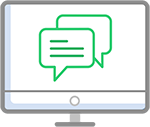 Charge
Automatic charge based on the SMS used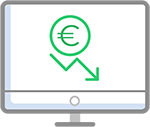 Prices for sending SMS by country
API
API for development and integration always available and free of charge: hook your applications to our services so that you can implement numerous additional features.
Scheduled sending
Send your SMS based on the schedule you have chosen, set the schedule through the interface to send messages at a specific time of day and let our system do the rest!
Custom Sender
Your company is not just a number; Customize the sending sender by entering a name so that every person who receives your message will immediately know who it was sent from.
Delivery report
Delivery reports help you keep your contacts in order and know if the message you send has been delivered to the mobile operator and if it has been delivered to the recipient's mobile phone.
Address book recipients
Manage all your contacts using the Address Book application: save all phone numbers and keep them organized without losing any contact.
Shipping lists
Not all recipients are the same: organize and group them in dedicated lists so that you can send specific communications to each of them, thanks to the Lists management you can keep everything under control.