Electronic invoicing for your company, with an easy and complete software
Create, send, receive electronic invoices in accordance with the law, simply, quickly and securely with the software dedicated to Electronic Invoicing for your business.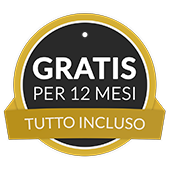 Manage unlimited electronic documents in accordance with the law, using the Electronic Invoicing software
As of January 1, 2019, electronic invoicing has become mandatory for everyone.
Our software allows you to manage it securely and completely and it's free for the first year
Create your XML invoices with the dedicated panel
Use the Electronic Invoicing platform to create XML documents following the required legal specifications
Manage the sending of your electronic tax documents
Manage your electronic invoices, upload them and send them to the Exchange System of the Revenue Agency
Monitor, view and download issued and received documents
Monitor the status of the documents issued and received at any time, view and download them according to your needs
Check the entire billing process
Independently check all the phases of the electronic invoicing process in a simple and intuitive way, from a single control panel.
Creates
Create your documents in XML format, compliant with legal specifications
Load
Upload with electronic signature all documents with a single upload
Send
Send electronic documents directly to the SdI of the Revenue Agency
to receive
Receive all invoices registered to you in the dedicated panel
Manage
Monitor the status of documents or allow access to other users
Log in you and your accountant too!
Additional Utilities
Grant access to the management of Electronic Invoices only to users assigned to specific functions:
Administrative employees of the client's company

Business consultant
Specific permissions
Define specific permissions for enabled users:
Read only (download) of sent / received documents

Ability to upload new XML (invoices to be sent)

Ability to create new invoices (new XML to send)
Electronic invoice for your company
Fully manage your company's accounting.
Send your electronic documents to the Revenue Agency's Exchange System with complete and intuitive software.
Find out which features are included in Electronic Invoice
Guided creation of electronic invoices
Single or bulk XML loading
Massive export of data in zip format
Automatic sending of the invoice to the SDI
Receipt of invoices from the SDI
Adding and removing customer records
Digital signature for manual validation
Special VAT schemes
VAT due (immediate, deferred, split payment)
Personalized tax regimes
Social security fund management
Withholding Tax
ENASARCO management
Discounts or surcharges
DDT management
Purchase orders
Linked invoices
Third intermediary
Unlimited storage space
Users with special privileges
Manage the Electronic Invoice service via API
Find out how to implement and use APIs in the management of purchase invoices Frequent questions
How are invoices sent to the Revenue Agency's Exchange System?
This service allows you to send your invoices and electronic documents without obstacles to the Exchange System of the Revenue Agency. Through the panel you will have the possibility to create or upload documents in formats suitable for the current legislation, which will be automatically sent to the ES.
How much does it cost to enable the service?
The Electronic Invoicing service includes all the functions described above; it is free for the first 12 months of use, and will subsequently be granted at a fixed price of € 49.99 + VAT per year.
How does the resale of the Electronic Invoicing service work?
If you are a Reseller customer (of any level) you can also purchase the Electronic Invoicing service for your sub-users. It will be sufficient to name the service to one of these sub-users. Access to the functions described above, in fact, is controlled on the basis of the service panel holder.
Is it possible to sign the documents issued?
Of course, for each document issued it will be possible to specify (before confirming its issue) if the generated XML must be signed. In this case, the invoice is not sent to the ES directly, but will remain in a waiting state until its signed version is uploaded. You will then be able to sign invoices manually if necessary or if you wish.
Is the substitutive conservation of documents also managed?
The Storage module will be available shortly for all users who already use Shellrent software for Electronic Invoicing. This form will allow you to keep your electronic documents legally. There will be two ways of loading documents:
Automatic storage of issued and received invoices
Manual storage of uploaded documents
The first method provides that automatically all your invoices sent and received are automatically uploaded to Conservation. The second method provides for the possibility of uploading documents to send them for storage.
What is the Electronic Invoicing Panel for?
Our Panel dedicated to Electronic Invoicing allows you to speed up your work, using the advantages of online invoicing. Create, upload, send and receive electronic documents directly with the Exchange System, to ensure your company complies with the law.
The software consists of a simple interface for managing your documents, and allows you to review, download and monitor the billing process with customers
Who can activate the service?
Our Electronic Invoicing service is aimed at anyone with a VAT number.
SdI-Hub as a Service
You can have access to the API of a Hub to be able to send and receive invoices with the ES.